I was exchanging emails with a friend earlier this week when I mentioned that it was my goal to enjoy the holidays this year. For the past 5 years, since my indie business began, October through December 25 has been a stressful time of year for me. It's the busiest for sales which means production has to increase greatly. For the past 3 years, I've done several shows in addition to online sales. This year, I've cut back significantly. The result has been that my dining room hasn't turned into a sweat shop and I've been making
dinners that require forethought and a stove
. I hope to have my house decorated and holiday shopping done at an enjoyable pace. My mantra this year is "enjoy a stress free holiday." [Hey, that would make a great card.]
Back to my email with my friend. She said she was in the same place. Ahhhh, what a relief it is that someone else feels the same way I do. It's nice to know that I'm not alone. For years, my biggest struggles with my business were my own expectations (and believe me, no one could be harder on me then me). I've constantly struggled with whether I should go to the "next level" and grow my business, hire employees, etc. The answer has always been the same - I like the way things are and I like my business small and manageable
for me
. It is exactly as "big" as I want it to be.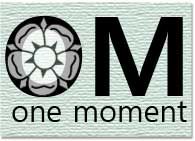 OM is a weekly meet up that promotes living in the moment. Whether funny, sad, ridiculous, or banal, looking for these moments can promote balance in our lives.
Share in the blog comments here, on
your own blog
(and link back below) or on my
Facebook fan page
. If you are on
Twitter
, use hash tag -
#omMeetup
so we can converse if we'd like. We'd love to hear your moment this week!
Mister Linky's Magical Widgets -- Auto-Linky widget will appear right here!
This preview will disappear when the widget is displayed on your site.
For best results, use HTML mode to edit this section of the post.