A highlight during
our visit to the UK
was seeing a dear friend. Sue and I met while working together at the University of Chicago years ago. She is the kindest, most genuine and honest soul I've ever met and has a special place in my heart.
Sue moved to London 7 years ago and is now keeping bees in south London. We spent a day exploring the beautiful gardens and surroundings of East Croydon (pictures to come). Sue and her boyfriend took us the a spectacular estate where they keep one of 5 hive locations. We donned our beekeeping suits and got up close and personal with thousands of bees. Hearing the volume of buzz rise from a hive is amazing. It isn't time for harvesting honey yet, so we simply made sure all was well with the hives.
Bees are amazing. Their hives are an eco system of complex relationships between worker bees, drones, and the queen. To hear my friends talk about what the bees do and the entire process of maintaining the hives to harvesting the honey (which I was able to taste directly from the hive) was unbelievable. For a few minutes, I even considered starting a hive when we move (along with getting a few chickens). Then I remembered I don't have an agricultural bone in my body.
Sue and Mike share their knowledge of beekeeping on their website,
Bees 'n' Beans
, and in teaching classes. I'd love for you to
visit their site
and follow them on
Twitter
. Who knows, maybe one of you will be a future beekeeper.
I have wonderful photos to share, but they are on Chris' computer today. I'll be sure to post them soon.
Hope you have a great weekend!
___________________________________________________________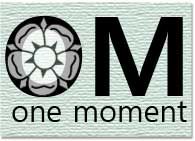 OM is a weekly meet up
that promotes living in the moment. Whether funny, sad, ridiculous, or banal, actively looking for and sharing these moments will promote balance in our lives.
Share in the OM comments here, on
your own blog
(leave us a link in your comments) or on my
Facebook fan page
. If you are on
Twitter
, use hash tag -
#omMeetup
so we can converse if we'd like. We'd love to hear your moment this week!