Warning: The first paragraph is a *downer dump. If you do not want to be exposed to it, please skip and begin reading paragraph two.
It's been a tough week. I won't sugar coat it. My back is out. We think it's a ruptured disc. I've spent many hours in the horizontal position. I've watched 4 movies on Netflix in 1 1/2 days and even started to watch Glee. The pain is constant and has reminded me of my labor pains with the boys. I'm beginning to wonder if I'll ever feel like my old self again.
E started reading from his new book,
Would You Rather...? (the radically repulsive version)
, this morning. The questions were ridiculous and gross. But, being a good sport, I had to answer the questions.
Question number 1:
Would you rather eat 25 jalapeno peppers each day
OR
drink a glass of blended insects?
Question number 2:
Would you rather have jellyfish tentacles for hair
OR
bat wings for ears? (things to think about: stinging your own face, stinging your enemies, fanning yourself on hot days with your wings, getting haircuts)
There was another question involving boogers as dimes but I can't seem to find it.
As strange as it may be, this book (along with the fact that E loved it so much) really made my morning. Each question immediately relieved me from my pain and general blah attitude. I felt silly, yet answered each with utter certainty including thoughtful reasons that justified my choices.
This book has been by my side all day. When I begin feeling sorry for myself, I reach for it, ask myself a goofy question, and thoughtfully give myself the answer.
So, how would you answer those questions?
You can see my answers on my
Facebook fan page - discussions
.
*Downer dump - a deluge of information that is negative; to moan and grown out loud; to complain, vent, or kvetch.
___________________________________________________________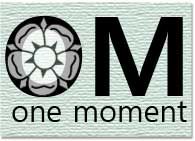 OM is a weekly meet up that promotes living in the moment. Whether funny, sad, ridiculous, or banal, actively looking for and sharing these moments will promote balance in our lives.
Share in the blog comments here, on your own blog (and link back below) or on my Facebook fan page. If you are on Twitter, use hash tag - #omMeetup so we can converse if we'd like. We'd love to hear your moment this week!
Mister Linky's Magical Widgets -- Auto-Linky widget will appear right here!
This preview will disappear when the widget is displayed on your site.
For best results, use HTML mode to edit this section of the post.