I've been able to hold it together this week although I still feel as if I'm on the verge of tears at all times. The
stress of selling our house
and all that is involved in
moving
(I'm sure you are tired of hearing about it) is ever present. I'm coasting through each day in a haze.
My back is officially on the outs. It's my body's way of showing who's boss. By doctors' orders, I'm banned from the gym and must "take it easy." I wish someone could tell me how it is possible to "take it easy" when you have two active kids, a dog, and a husband (who works too many hours) and have to keep the house spotless at all times (for strangers and realtors to come through).
Not quite sure what is going on w/my back other than I have chronic pain and spasms. Most certainly disk related, but there is nothing I can do but manage the pain and "take it easy." I'm doing that to the best of my ability.
Back to keeping things together emotionally...
All was going well until I get a handwritten letter in the mail from my
dear neighbor
. She is in her mid to late '80s, newly widowed, and the sweetest person you can meet. Her letter basically said how nice it was to have us as her backyard neighbors. She knew our move was coming but it wasn't real to her until she saw the "for sale" sign in our yard.
That did it. Streams of tears and buckets of emotion came pouring out.
She goes on to write how she loved watching the kids grow up, that her late husband loved having the back door opened to hear the kids playing, and how our backyard parties and neighborhood get togethers were such happy gatherings.
Are you welling up yet?!
She remembered and listed many of the goodies we shared with her: C's key lime pie and my French/Vietnamese sandwiches.
She even mentioned the most recent addition to our family - Sophie.
Flood gates are open.
I may never stop crying.
This was the kindest, most heart-felt letter I've ever received. It even made C well up. To have someone take the time to hand write this detailed letter and to have thought of us so affectionately is incredible. I am deeply humbled...
...and now, officially, a basket case.
____________________________________________________________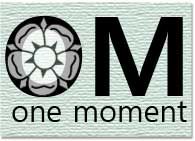 OM is a weekly meet up
that promotes living in the moment. Whether funny, sad, ridiculous, or banal, actively looking for and sharing these moments will promote balance in our lives.
Share in the blog comments here, on
your own blog
(and link back below) or on my
Facebook fan page
. If you are on
Twitter
, use hash tag -
#omMeetup
so we can converse if we'd like. We'd love to hear your moment this week!
Mister Linky's Magical Widgets -- Auto-Linky widget will appear right here!
This preview will disappear when the widget is displayed on your site.
For best results, use HTML mode to edit this section of the post.