I hesitate to write about this because I don't want to jinx any part of it (I am slightly superstitious when it comes to these things). However, with such a huge
moment
for us/me this week, I have to share a little. Our
impending move to Reno
is falling into place in the most amazing way.
This week, our offer on a mid century modern house was accepted. What a moment of relief for us and one in which the circumstances are surreal. I will tell you the whole story when that "
moment
" is right. If all goes well, we will close on our new home July 7th. Since so many things can happen between now and then, I'll save the rest for later. However, I can't resist and must show you the main hallway in this house. This will give you a little idea of why we are so excited.
How was your week? I know Candy, of
Candied Fabrics
, had in twist of events in her week. I'm pretty certain she'll update us on her
blog
. I'm wishing sweet Logan a speedy recovery.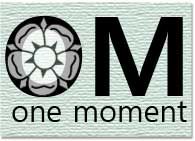 OM is a weekly meet up
that promotes living in the moment. Whether funny, sad, ridiculous, or banal, actively looking for and sharing these moments will promote balance in our lives.
Share in the blog comments here, on
your own blog
(and link back below) or on my
Facebook fan page
. If you are on
Twitter
, use hash tag -
#omMeetup
so we can converse if we'd like. We'd love to hear your moment this week!
Mister Linky's Magical Widgets -- Auto-Linky widget will appear right here!
This preview will disappear when the widget is displayed on your site.
For best results, use HTML mode to edit this section of the post.