Hello, my name is Linda and I'm a workaholic. Seriously.
However, this week, I took one day and spent it with a friend on her sailboat. We packed a lunch, grabbed some wine and music, and headed to the harbor. Her boat, on its mooring, was a wonderful place to just relax and chat. We laughed. We shared family stories. We had a lovely time. It was a mini vacation.
The
nice
thing about running my business from my home is that I can control my schedule. If the kids are sick, I can take the day off (although I still pop in and out of my office). If I have a school meeting or volunteer commitment, I can do that. However, what I've found in the past 5 years is that I tend to work a lot...almost all the time. When the kids are in bed, between cooking dinner and football practice, on the weekends, etc. That is the
hard
part of running a business from my home...closing the door to my office and walking away. My kids think I work more than my husband does. He works 90+ hours a week as a resident (and is always on call). That's a shame and not something I want my kids to believe.
With that said, I want to be sure that when an opportunity arises, such as a friend asking me to do something, I allow myself that time. It is necessary to my happiness and well being. It is crucial to my relationships. Did you know that planning fun activities for ones self is a treatment for depression? I've always considered it a luxury, but we all need
something
to look forward to each week.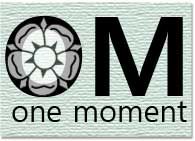 What was your
'one moment'
this week? What took you out of your present moment and made you
see things a little differently or made you laugh, cry, be thankful, etc.
?
Share in the blog comments here, on your own blog (and link back below) or on my
Facebook fan page
. If you are on
Twitter
, I've started a hash tag -
#omMeetup
so that we can converse if we'd like. We'd love to hear your moment this week!
Mister Linky's Magical Widgets -- Auto-Linky widget will appear right here!
This preview will disappear when the widget is displayed on your site.
For best results, use HTML mode to edit this section of the post.