I went back and forth on which of two
moments
I'd share this week until I found this quote. It touches on both subjects, so I'll share both with you.
"Laughter is the sun that drives winter from the human face.

" -Victor Hugo
Laughter:
I mentioned, a few weeks ago, that the family has been enjoying episodes of Lost together. During one episode this week C fell asleep and the kids decided to have some fun with a marker. They drew a thin mustache under his nose. We snickered and continued watching the show. After some time, we forgot about it.

Bedtime...kids routinely ran upstairs....
C and I proceeded upstairs to our room as the kids readied themselves for bed. C started to tell me a story about his day (most certainly death related) and when he turned to me with seriousness written all over his face, there it was...

the thin red mustache

. I gasped and told him to go look in the mirror. I was laughing so hard tears welled in my eyes. It was the kind of laugh that releases (ding, ding, ding, my word of the year) stress and makes time stand still. It was laughter I needed.
Sunshine:
I grew up in South Bend, IN, (home of Notre Dame) just 80 miles east of Chicago and 20 or so miles east of Lake Michigan. If you think Chicago winters can be bad, SB is the tundra by comparison. SB gets lake effect snow. Right now, we have maybe 20" of snow on the ground here in RI. SB has 42".
Growing up, we would have 15 foot drifts and piles of snow that would allow us to dig caves and build forts (fun when you're a kid).
Living in Chicago for so many years, I came to really hate winter by January. The snow is dirty and the sky often gray. There are many days below freezing and getting to work by public transportation was a *itch. RI winters have been mild by comparison, but none the less tiresome. It is safe to say that I'm sick of winter, cold, and gray. Certainly by mid to late January, I'm over it.
Although we've just weathered two storms, it has been relatively bright...cold, but bright. Today, as I drank my morning coffee, I snapped this photo with my iPhone. I am grateful for the sun this January. It has saved me from the winter blues.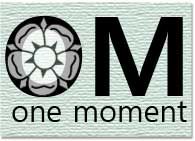 OM is a weekly meet up that promotes living in the moment. Whether funny, sad, ridiculous, or banal, actively looking for and sharing these moments will promote balance in our lives.

Share in the blog comments here, on your own blog (and link back below) or on my Facebook fan page. If you are on Twitter, use hash tag - #omMeetup so we can converse if we'd like. We'd love to hear your moment this week!
Mister Linky's Magical Widgets -- Auto-Linky widget will appear right here!
This preview will disappear when the widget is displayed on your site.
For best results, use HTML mode to edit this section of the post.