Kindness is the language which the deaf can hear and the blind can see. ~ Mark Twain
I've been touched by the kindness of so many people in the past two weeks. Many, were not actually strangers although I've only met them within the past several months and seen them a few times. In Reno, we were given personal cars to use, a place to stay, welcoming dinners, and limitless hospitality by people who hardly know us. I am so grateful to all of them. They made our stay better then a visit or a vacation. We felt at home.
A few days ago, the employees at our local bookstore went above and beyond their job. A book that was supposed to be on the shelf could not be found. E would have been distraught especially after he had called the night before and was told it was there. I promised him I'd deliver it before his reading time at school the next day. He had waited an entire week to get home to purchase book two of
Zombie Chasers
.
All this effort is a big deal to a 9yo.
Three employees began scouring the shelves, backroom, and displays determined to find this one book. No book and lots of apologies. I ordered the book and left the store disappointed for E. I know it's only a book, but to nurture his desire to read is very important to me. If it were anything else, I'd not make the same effort. Before I made it home I got a call on my cell phone. They found the book.
They could have just stopped looking since I had ordered another one. They could have called me later.
I went back and found the book gift wrapped and waiting for me. Although this isn't a major event, I was grateful for the effort made to make a boy happy.
Big or small, these gestures humbled me. People went out of their way to make my life easier, comfortable, and joyful. My moment this week is acknowledging the kindness that has been bestowed on my family. I'm grateful.
I am sorry I missed posting OM last week. It was the first week missed by me in 48 weeks. I know many of you posted this past week, so I'm counting this as #49 for you. Please feel free to double link (last week's and this week's) your posts.
___________________________________________________________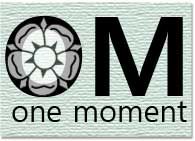 OM is a weekly meet up
that promotes living in the moment. Whether funny, sad, ridiculous, or banal, actively looking for and sharing these moments will promote balance in our lives.
Share in the blog comments here, on
your own blog
(and link back below) or on my
Facebook fan page
. If you are on
Twitter
, use hash tag -
#omMeetup
so we can converse if we'd like. We'd love to hear your moment this week!
Mister Linky's Magical Widgets -- Auto-Linky widget will appear right here!
This preview will disappear when the widget is displayed on your site.
For best results, use HTML mode to edit this section of the post.