Not as it seems, originally uploaded by alamodestuff.
I've desperately sought the
one moment
this week when I'd be motivated to
decorate for Halloween
. It has yet to come. Tonight, whether motivated or not, E and I will get it done. The excitement this year has somehow alluded me.
I volunteered to bring in a "baked treat" to E's Halloween class party yesterday. On Wednesday night, I pulled out the cookie cutters (bat, ghost, pumpkin) and asked E if he wanted to help make frosted sugar cookies. He eagerly accepted and we began prepping. When I mentioned we'd have to run to the store to get some frosting, he immediately put on the brakes.
E: "You go, mom. I'll play."
Me: "Um, no that isn't how this is going to work."
Both: quiet stare
Me: "Do you want me to bake these cookies or buy them from the store?"
E: Laughing and rolling eyes, "I don't care. Just buy them."
Wow, off the hook. My
one moment
when I was willing to go all out Martha Stewart didn't really matter to my son. Clearly, the pressure was all mine.
Store bought cookies it was and no one cared.
Happy Halloween to all!

How was your week? Did you have a light bulb moment? How about a moment that made you really think about why you do what you do? Share any moment you had whether funny, sad, reflective, etc. I want to hear all about it!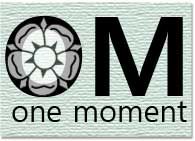 OM is a weekly meet up that promotes living in the moment. Whether funny, sad, ridiculous, or banal, looking for these moments can promote balance in our lives.
Share in the blog comments here, on your own blog (and link back below) or on my
Facebook fan page
. If you are on
Twitter
, I've started a hash tag -
#omMeetup
so that we can converse if we'd like. We'd love to hear your moment this week!
Mister Linky's Magical Widgets -- Auto-Linky widget will appear right here!
This preview will disappear when the widget is displayed on your site.
For best results, use HTML mode to edit this section of the post.