I'll admit, yesterday I wasn't sure what I was going to write today for our
5th week
OM [one moment] meet up
. My week was kind of a blurr. I feel much like the hamster in the ball running around aimlessly bumping into things.
Peanut's day out! -Peanut-, originally uploaded by Kaede-wings.
Since my week started with my 8yo in the ER having a deep puncture wound in is bottom, I've been playing catch-up on work and obligations. Do you ever have a week that feels off by a day or two. I feel like it's only Wednesday. Anyway, E is fine. All is well and, thankfully, nothing serious came out of the accident. One tetanus shot, two sore buns, and a handfull of antibiotics later, I'm here to tell you to always make sure your garden rakes are turned over with tines pushed into the ground.
My "
moment
" this week actually came late yesterday. I sold my first photo (
red hydrant
) and it felt great (jolted me out of my numb state of being). There is a sense of validation that comes with any sale, but this one was particularly special. I've been taking photos since high school (it's actually one of the first artistic mediums that stuck with me) and finally got enough nerve to post a few photos in my
Etsy shop
. Then I waited...thinking I'd let them expire and move on. Lo, and behold, a photo sells. "
She likes me, she really likes me
." What a feeling!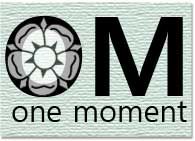 What was your
'one moment'
this week? What took you out of your present moment and made you
pause

,

smile

,

breath

?
Share in the blog comments here, on your own blog (and link back below) or on my
Facebook fan page
. If you are on Twitter, I've started a hash tag -
#OMmeetup
. We'd love to hear your
moment
this week!
To learn more about this weekly post,
OM [one moment] meetup
, please see the original post
here
.