Years ago, before we had kids, I worked in an art center on the Main Line just outside Philly. I worked with a lovely woman who had 4 kids ranging in age, at that time, from 9 years to 17 years of age. She was the perfect mom: patient, fun, caring, sweet, etc. Everything I knew I wanted to be when I had kids.

One day, she was on the phone with one of her kids. I wasn't paying attention to her conversation until I heard her voice change. I don't recall what she said, but distinctly remember how she said it. It was an unearthly bellow from the pit of her stomach. It sounded so unlike her that it frightened me. When she got off the phone, she turned to me and in her normal sweet and soft voice said, "You just witnessed the mom voice."
What the heck is the mom voice?
I could never possibly create that kind of guttural sound. And my sweet, innocent children would never push me that far.
Fast forward 14 years...
The boys were arguing, as they do most of the time, as we were trying to leave for music lessons. [note: there is almost 5 years between them so they don't have a lot in common other than verbal assault.] Their cacophony of words crescendoing as they entered the car. When I opened my door, it was if a sound bubble floated out and burst. I closed the door and lost it.
Stop it!!! Just stop it!!
The mom voice came out. It reminded me of Chris Farley in the Gap Girls skit (watch and you'll get the idea).
The kids immediately stop and hold their breath in shock and maybe a little fear.
Is she going crazy?
As we drove off, I was aware that the entire neighborhood, and perhaps town, just felt their windows vibrate. I was frustrated and exhausted, but slightly relieved. What a release. In that very moment, I realized that we all have that mom voice deep inside. Even with the best parenting intentions, we will have moments of losing it. It was okay. The kids were okay, if not entertained. I just hope it never happens in public.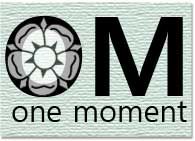 OM is a weekly meet up
that promotes living in the moment. Whether funny, sad, ridiculous, or banal, actively looking for and sharing these moments will promote balance in our lives.
Share in the blog comments here, on
your own blog
(and link back below) or on my
Facebook fan page
. If you are on
Twitter
, use hash tag -
#omMeetup
so we can converse if we'd like. We'd love to hear your moment this week!
Mister Linky's Magical Widgets -- Auto-Linky widget will appear right here!
This preview will disappear when the widget is displayed on your site.
For best results, use HTML mode to edit this section of the post.