[photo by missevelyn]
As the boys get older, it's harder for us to find common activities and interests in which all of us are willing to partake. I feel like I'm constantly pulling and prodding and often giving up on trips, games, movies, etc. There is almost a 5 year difference between the boys. Right now, 14 and 9 seem worlds apart. Adding to the issue, "mom's a girl." I don't care to watch bang 'em up, shoot 'em up, beat 'em up shows all the time. Frankly, if I never have to sit through another
Jason Bourne
movie...
Two Saturdays ago, I'm sure while the boys were playing some war video game, I decided to treat myself to a
Netflix
movie. I was excited to see that the TV series
Lost
was available. So, I crawled into bed, and watched the first episode on my iPad. I was hooked immediately. I began watching the second episode and realized that the boys (C included) would love this show. Let the prodding begin.
Saturday:
My declaration that I've found something the whole family would enjoy fell on deaf ears.
"We'll watch it tomorrow."
"Maybe later."
I know how this game is played.
Sunday:
"You will sit down and watch this show with me. If you don't like the first episode, you are free to go about your day."
They watched. They were hooked. We're now on episode 16 of Season 1.
Surprising, my
moment
wasn't that I got them to do something
I
wanted to do, nor that I was
right
about something I thought they'd like, for a change. My
momen
t was that we finally found something that we all enjoy and are eager to do
together
. I can't help but smile when I hear "Mom, can we watch another episode tonight?" It means we all sit on the couch together, heads on shoulders, legs across each others eager with anticipation -
TOGETHER
. It's just a TV show, but it's something that has brought us together and I love every second of it.
How was your week? Did you do something with someone special? Did you have a moment that stands out to you?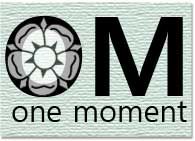 OM is a weekly meet up
that promotes living in the moment. Whether funny, sad, ridiculous, or banal, actively looking for and sharing these moments will promote balance in our lives.
Share in the blog comments here, on
your own blog
(and link back below) or on my
Facebook fan page
. If you are on
Twitter
, use hash tag -
#omMeetup
so we can converse if we'd like. We'd love to hear your moment this week!
Mister Linky's Magical Widgets -- Auto-Linky widget will appear right here!
This preview will disappear when the widget is displayed on your site.
For best results, use HTML mode to edit this section of the post.