I have hang-ups. I have many hang-ups. Many of my hang-ups were born during childhood; others were picked up along the way. To list them for you would only depress me.
I let go of a few things this week: 1) an obligation, 2) a fear, 3) a self imposed judgement. My
moment
this week was when I realized how great it feels to release myself of these things. It can't stop here. In order to get through this next year, I have to release many more hang-ups but now I know I can and how great it feels.
I've never been one to make New Year's resolutions and I'm not going to start now. However, like many of you, I'm going to chose a word for 2011. My word this year is
RELEASE
. It will resonate throughout all areas of my life.
"I must let go in order to get going."
How about you? What are you hanging on to that you know needs to go?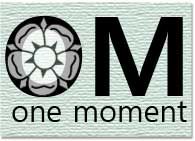 OM is a weekly meet up
that promotes living in the moment. Whether funny, sad, ridiculous, or banal, actively looking for and sharing these moments will promote balance in our lives.
Share in the blog comments here, on
your own blog
(and link back below) or on my
Facebook fan page
. If you are on
Twitter
, use hash tag -
#omMeetup
so we can converse if we'd like. We'd love to hear your moment this week!
Mister Linky's Magical Widgets -- Auto-Linky widget will appear right here!
This preview will disappear when the widget is displayed on your site.
For best results, use HTML mode to edit this section of the post.