I am very excited to introduce my talented friend, Diana Brennan, as a new contributor to the alamodeStuff blog! I've known Diana for several years through
Etsy
and the
Arts in RI
Etsy team. She is a great photographer and nature enthusiast. Combining her background in environmental science with her knowledge and love for photography, Diana's work is beautifully detailed and ethereal.
My moment this week actually came about while I was scheduling Diana's first post for this Monday. I have written aproximately 775 posts on this blog beginning in March, 2008. Having Lindy (
Crafted by Lindy
) and Diana as contributors allows me an opportunity to view this blog as the readers do, with an element of surprise and anticipation. Thank you, ladies!
What was your
'one moment'
this week? What took you out of your present moment and made you
grateful
,
smile,
happy?
Share in the blog comments here, on your own blog (and link back below) or on my
Facebook fan page
. If you are on
Twitter
, I've started a hash tag -
#omMeetup
so that we can converse if we'd like. We'd love to hear your moment this week!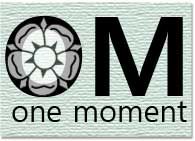 Mister Linky's Magical Widgets -- Auto-Linky widget will appear right here!
This preview will disappear when the widget is displayed on your site.
For best results, use HTML mode to edit this section of the post.