I've always liked Andy Warhol. I think you can see his influence in my work - turning everyday objects into art. When I learned about the
MoMA's Andy Warhol: Motion Pictures exhibition
and that I could participate in it, I couldn't resist. (click photos to go to the website).

"Andy Warhol: Motion Pictures focuses on the artist's cinematic portraits and non-narrative, silent, and black-and-white films from the mid-1960s. Warhol's Screen Tests reveal his lifelong fascination with the cult of celebrity, comprising a visual almanac of the 1960s downtown avant-garde scene." - MoMA
In the early 1960's Warhol began making screen prints of celebrity icons (including his famous Marylin Monroe portraits). He took hundreds of rolls of black and white photos of friends, celebrities, and acquaintances. He would sometimes leave his subjects alone, in front of the camera, which heightened their vulnerability.
Photo of the original painting that I took at the MoMA.

This morning I shot 2 minutes worth of me staring at the camera. Believe it or not, I'm very self conscious and hate having my photo taken (you'll find thousands of photos of my family sans me). Doing this really challenged me. It is very uncomfortable to sit and do nothing. I felt like I was blinking a hundred times a minute. I edited the video to the 90 seconds allotted and uploaded it to my Flickr as instructed. Shortly thereafter, I was up on the
MoMA site
. I can't believe I did this, but it was fun.
This is the tail end of the original video as a certain someone sticks her nose into frame.
Try it! It's a great exercise in pushing your comfort level. I so love modern art!!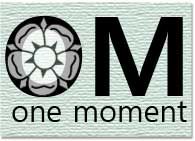 OM is a weekly meet up
that promotes living in the moment. Whether funny, sad, ridiculous, or banal, actively looking for and sharing these moments will promote balance in our lives.
Share in the blog comments here, on
your own blog
(and link back below) or on my
Facebook fan page
. If you are on
Twitter
, use hash tag -
#omMeetup
so we can converse if we'd like. We'd love to hear your moment this week!
Mister Linky's Magical Widgets -- Auto-Linky widget will appear right here!
This preview will disappear when the widget is displayed on your site.
For best results, use HTML mode to edit this section of the post.