It is so easy to get caught up in our own world and lose sight of little moments and things along the way. We are all so busy with family, work, school, worries, life. Every day activities become routine:
Get up, get out of bed, get kids off to school, shower, work (email/blog/tweet), walk dog, work some more (orders/shipping/designing), kids come home, run kids to activities (music/sports), dinner, kid's bedtime, work some more, my bedtime.
wash, rinse, repeat!

Personally, I've been trying to take note when something catches my eye for the first time. It may be a thought, a product, a sound that causes me to pause. It's that one moment that shakes me out of my routine fog and makes me

smile

,

wonder

,

breath

. I've somewhat referred to these moments in

past posts here

, such as dropping E off at school. But recently, I've made it a point to actively look for these little moments.
Walking
Sophie
the other day, my newest life routine, I realized that I hadn't noticed some things very close to my own home.
I began to notice my neighbor's beautiful doors, cute porches, yellow fire hydrants (and where each is located). I've lived in this neighborhood for 6ish years. I'm just now noticing these things?!
[Note: I may have to look into my fire hydrant obsession.]
I thought I'd organize a
meet up
so that we could share and encourage each other to pause in our individual lives. After all, it's these little moments that get us through the day and connect us with others.
Just look for one moment in your day, week, or even month. If you have a blog, share it with your readers and link back here [an added SEO bonus is that we will be sharing links]. If you are on Facebook, I'll start a discussion page and you can share
there
here
. I'll create a group on Flickr so you can share there, too. Or simply leave a comment.
I'll be adding more info, links, and an OM banner to this post before the first meet up next Friday.
[update 4.10.10] Below is a button you can use in your post to redirect your readers to this post for further information. Simply copy the coding in the box and place it in your blog post or sidebar.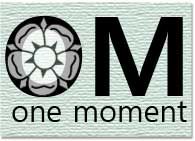 Your moment can be a thought, something funny, any product (so long as it's not gratuitous self promotion), a picture, etc. My goal is to prompt you with a post every Friday (if you are posting on a blog, you don't have to post exclusively on Fridays, just link back whenever you post).

We can encourage each other to stop and smell the flowers!
What do you think? Will you join me?

[update] Below is what will appear at the end of each

OM

meet up post (every Friday). If you are a blogger and want to link back, you simply add your name and link to that Friday's post. Your link will be added to the list. If you are excited about this meet up, you don't have to wait 'til next Friday. Share one moment now and link below! Let's get this party started!